HITS OF THE 60'S – 2 MARS 2024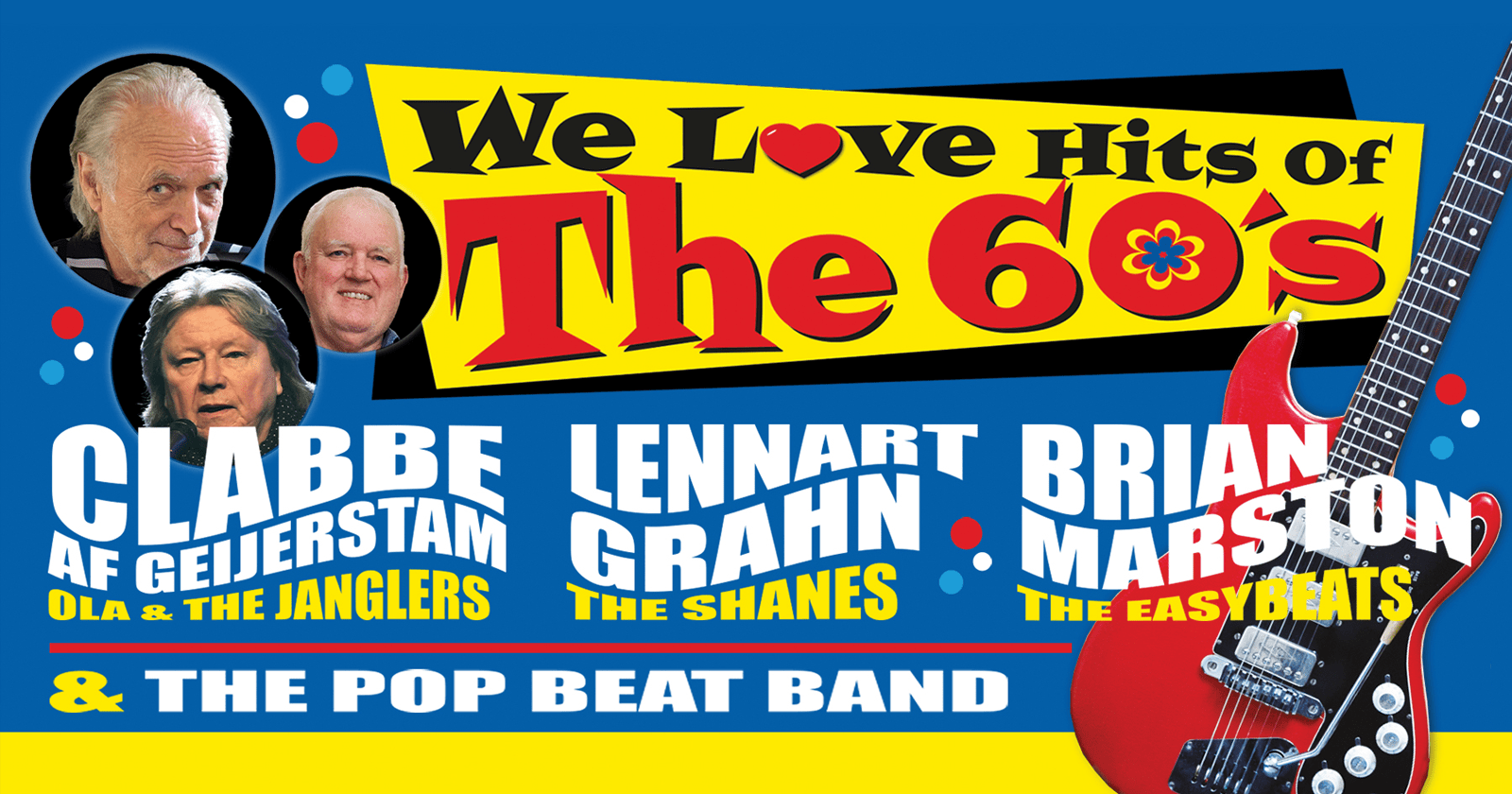 Clabbe af Geijerstam, Lennart Grahn och Brian Marston gör gemensam sak, ett unikt samarbete där dom lirar de gamla hitlåtarna från tiden när dom var med i Sveriges populäraste popband under 60-talet!
Historik :
Hits of the 60´s bildades 2018 då idén var att sätta ihop ledfigurerna från de största svenska popgrupperna för en turné. 3 succéartade turnéer senare fortsätter dom för att dom ser ett behov hos en äldre publik att få uppleva 60-talet för en stund! Svenne Hedlund från Hep Stars var med från starten men gick sorgligt bort i december 2022. Janne Önnerud från Hounds var även han med från starten men slutade 2020 pga hälsoskäl. Medlemmarna i dag är lika hungriga som då att göra de gamla hitlåtarna rättvisa, både sina egna hits men även andras stora hits från tiden, Hits of the 60´s!
Lennart Grahn
Frontmannen och sångaren från The Shanes "Cara Mia Why", "Can I Trust You", "Chris Craft no 9", "Vem får följa dig hem?" "Hi-Lili Hi-Lo" var stora hit´s med Lennart Grahn & The Shanes. Lennart hade stora framgångar i början av 2000-talet med "Idolerna" där även Svenne Hedlund, Lalla Hansson & Tommy Blom ingick.
Claes "Clabbe" af Geijerstam
Ola & The Janglers gitarrist och kompositör, DJ, programledare, producent mm. Claes var den musikaliska motorn i Ola & The Janglers, han skrev "Alex is the man", "Julia", "Love Was On Your Mind", m. fl. Ola & The Janglers var det första svenska bandet att ligga på "The American Billboard Hot 100" med "Let´s Dance". Clabbe har även haft stora framgångar med sitt radioprogram "Rakt över disc" men även som programledare i TV´s "Oppopoppa", "Lite Grand i örat" m. fl.
Brian Marston
Brian har varit med i det engelska bandet Easybeats som hade en stor hit i Sverige med Friday on my mind och även med She´s so fine. sedan flytten till Sverige har Brian varit med i bl. a. Shanes och Blåblus.
Musikanterna
Joffe Enbom, Basist, sångare och kapellmästare. Basist i Hep Stars sedan 1989
Totte Päivärinta, Trummor, medlem i Hep Stars sedan 2000
Benneth Fagerlund, Piano och sång. Medlem i Hep Stars under olika perioder sedan 1984. Benneth har setts som kapellmästare och pianist med Lill-Babs, Lasse Berghagen m.fl.
Micke Areklew, Gitarr och sång. Legendarisk gitarrist i svenskt musikliv, var med i Björn Skifs & Blåblus som låg på 1:a plats på "The American Billboard Hot 100"med "Hooked on a feeling", då under namnet Blue Swede!